This is our fourth year that we have selected Alex's Army Childhood Cancer Foundation as a Salon Khouri community outreach partner and it's because we love their mission so much! Alex's Army Childhood Cancer Foundation is a 501c3 whose mission is to raise awareness and funding for Childhood Cancer Research while providing Christian focused support to the Childhood Cancer Community.
A majority of their funds go directly towards funding childhood cancer research initiatives through world class organizations such as the Children's Oncology Group (COG). Because childhood cancer remains the #1 cause of death by disease for children in our country and because childhood cancer research currently receives less than 4% of the total national cancer research budget, they remain committed and passionate about doing their part to help find cures! The goal of AACCF is to help support new research through providing whatever funding they can in order to help make a difference in treatment options available to children fighting childhood cancers.
Here's the impact AACCF had in just 2018 alone:
$100,000 Research Grant to Children's National to help fund the REST Immunotherapy Trial (more).
260 Care Packages delivered to children at Fairfax Inova Children's Hospital and to families and children in 14 different states
12 Prayer Team visits which included bringing gifts, breakfast, coffee, and lots of LOVE to the families at Inova Children's Hospital. In 2018, they incorporated a few themed visits including an EMOJI party and one time bringing Rapunzel with them!
70 Prayer Pillowcases sent out to children and families
60 Super Hero Dolls made lovingly by their friend Kristi Catlett at GoldRibbonCrochet
100 parent toiletry kits delivered to Fairfax Children's Hospital to be kept on the unit and distributed as needed to parents unexpectedly staying overnight
Additionally, they embarked on a few new things this year:

They sent families to Minefaire and gifted them with tickets for the whole family!
They created Forever in our Hearts Kites and mailed them to 18 different families.
They also helped provide meals to 4 different families locally in 2018.
And, on November 16th, 2019, they will be hosting the Hearts of Gold Gala to celebrate Five years of giving back to our local community. You may register for the gala here.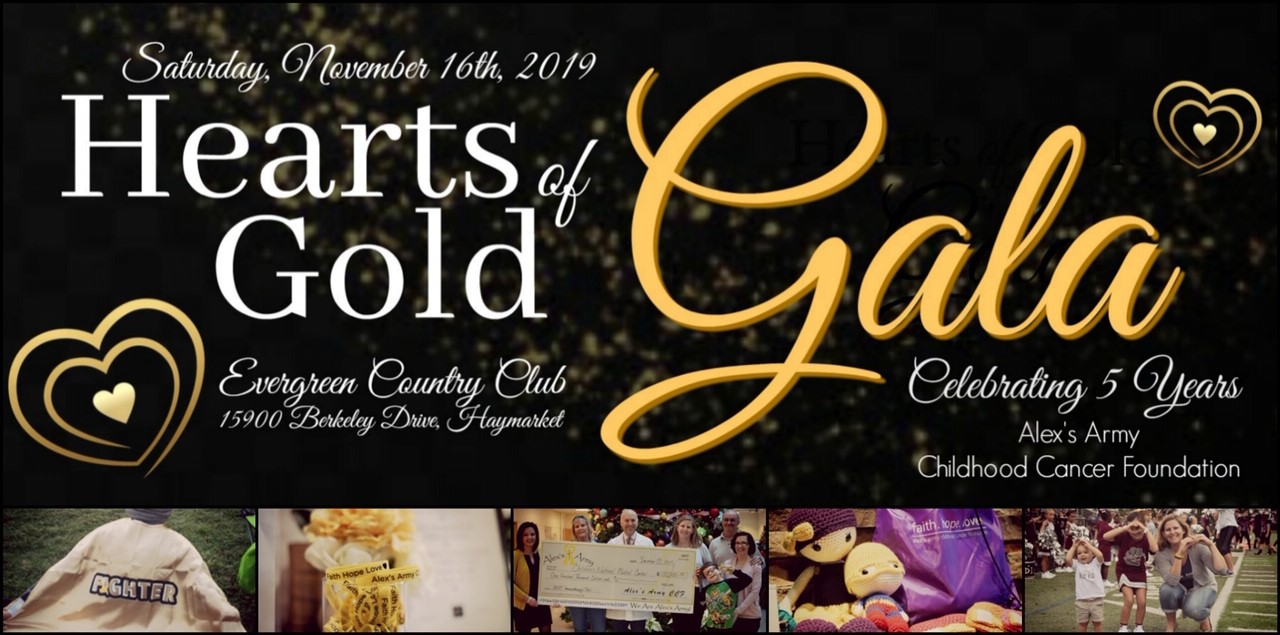 This October, we are donating $1 from every haircut from our Fairfax and Dulles locations to Alex's Army Childhood Cancer Foundation and we know that every single penny will bring blessings to those in our local community battling childhood cancer.